Jamie has been bred to Jaya and is confirmed in whelp.  Puppies due mid November, 2020. 
All puppies are reserved.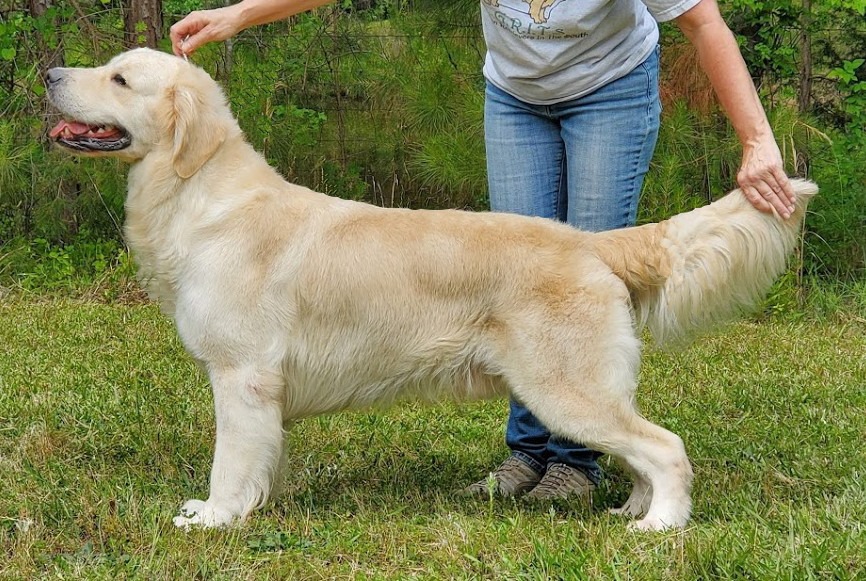 "Jamie" Acadia Je Suis Prest is home bred/owned by Patti Covert, my close friend and mentor, owner of Acadia Goldens in North Carolina.
Jamie carries a dense coat with good undercoat and has a stunning head, broad in skull with pleasing expression, substantial bone, well balanced angles, and a solid top line with correct tail set.  His unparalleled sweet and loving personality is certain to be passed along to his offspring.
He is the son of the beautiful "Romah" - Blackpool Acadia Gaga Oh La La from Blackpool Kennels in Canada, owned by Patti Covert, bred to my magnificent "Julian" -Majik Just A Gigolo CGC, TKN from Finland.
I had the privilege of visiting Majik Kennel to bring Julian home at eight weeks old and while there met his well-known sire "Tane" C.I.E. , SE/DK/LT/LV/EE/BAL CH, NL VCH Majik Finders Keepers DKW-11 along Tane's Great Grandsire "Roi" C.I.E,LTU&SWE(show)CH,FIN JW-01&FIN W-07,VetWW`10 Royal Salute du Pays de Boheme.  Two of the sweetest boys with a trustworthy and loyal nature.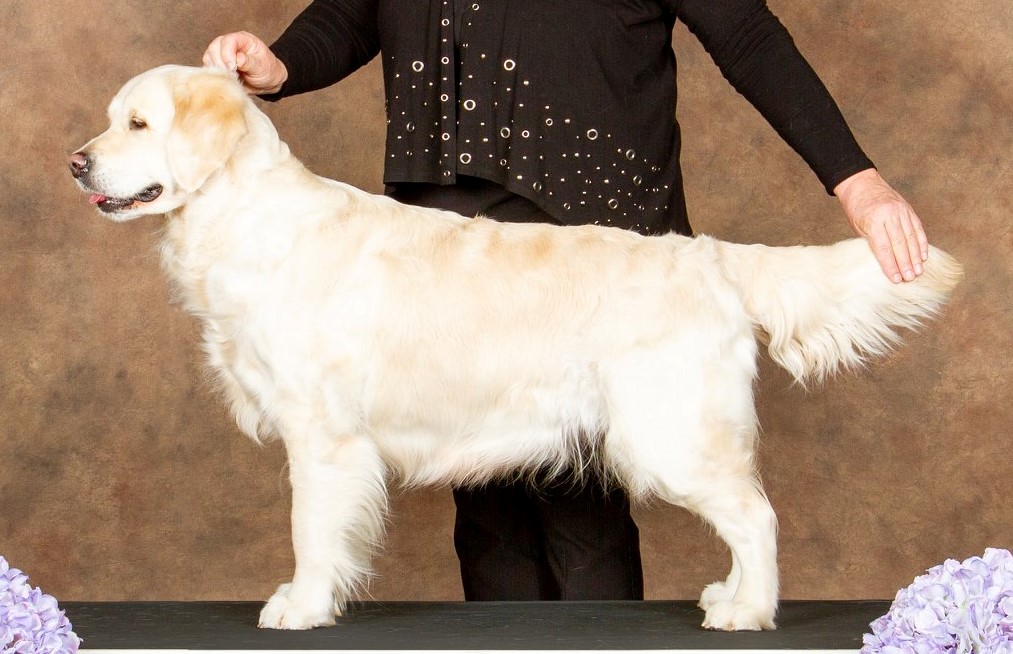 "Jaya" International CH, National CH, Honors CH Acadia Obsession Of Nova Mist CGC is home bred and co-owned by Patti Covert.
Her coat is thick and full, exhibiting a striking head with beautiful expression.  Her solid temperament is well recognized by all who meet her, commenting on her sweet feminine nature, good behavior, and smile. Perpetually happy, Jaya even wags her tail in her sleep.
Comments from judges in the conformation show ring – Excellent type, head - beautiful, and classic, appealing expression, good layback, bone and feet, balanced, good reach and drive, sound, easy and smooth movement, great temperament.
Jaya is the daughter of the sweet "Makenzie" Acadia Dare To Dream, home bred/owned by Patti Covert, and the handsome "Oliver" Veteran CH Winchester Of The Hellacious Acres, from The Netherlands, also owned by Patti Covert.
It was a memorable Spring in 2016 when Patti entrusted me with this special girl.  She is pure joy and happiness.
All clearances for both dam and sire are up to date and adhere to the breed guidelines for health testing.   Click on the links below to view clearances for Jamie and Jaya, along with their parents', on the Orthopedic Foundation for Animals website - OFA.org
Jamie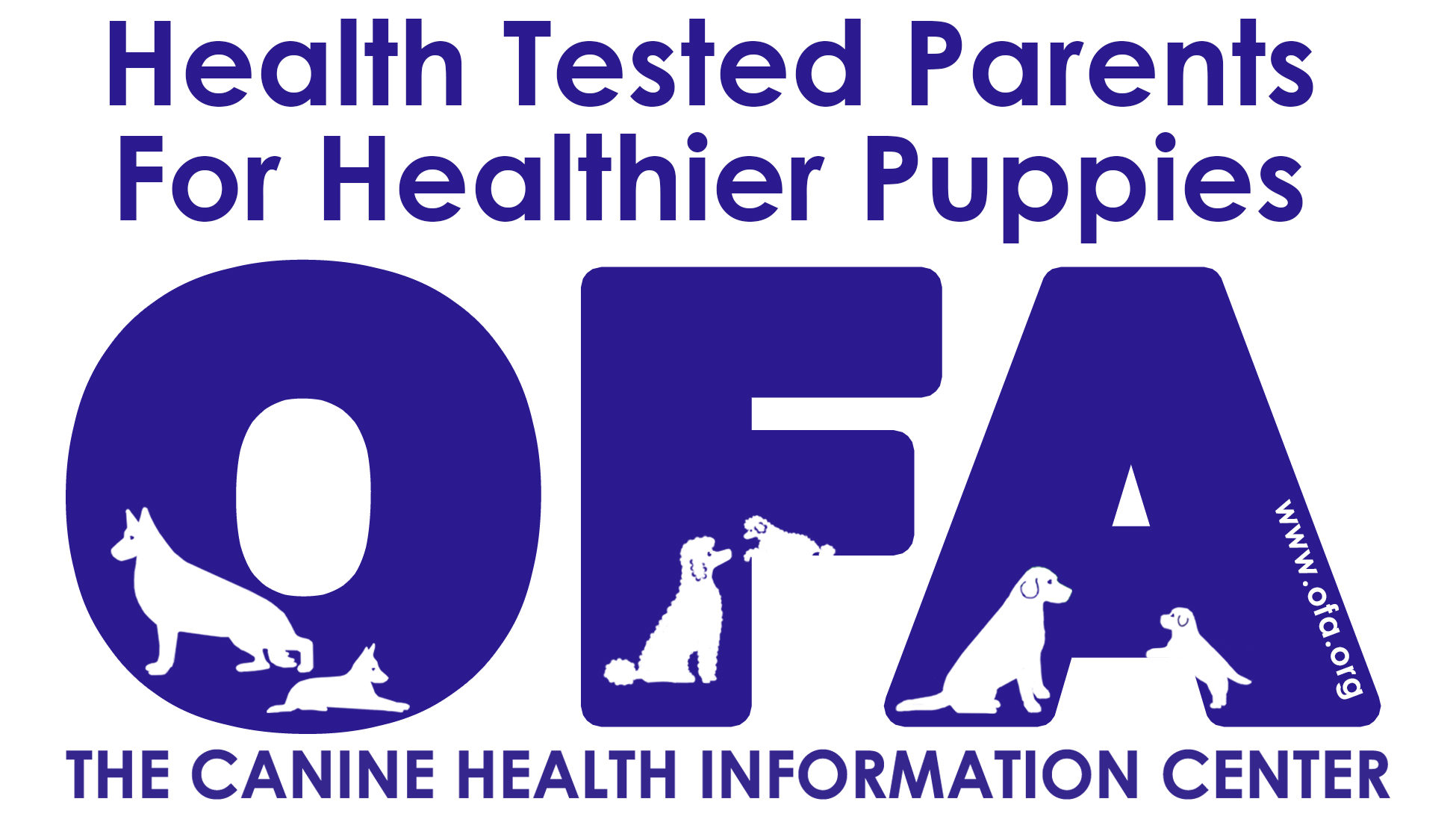 Jaya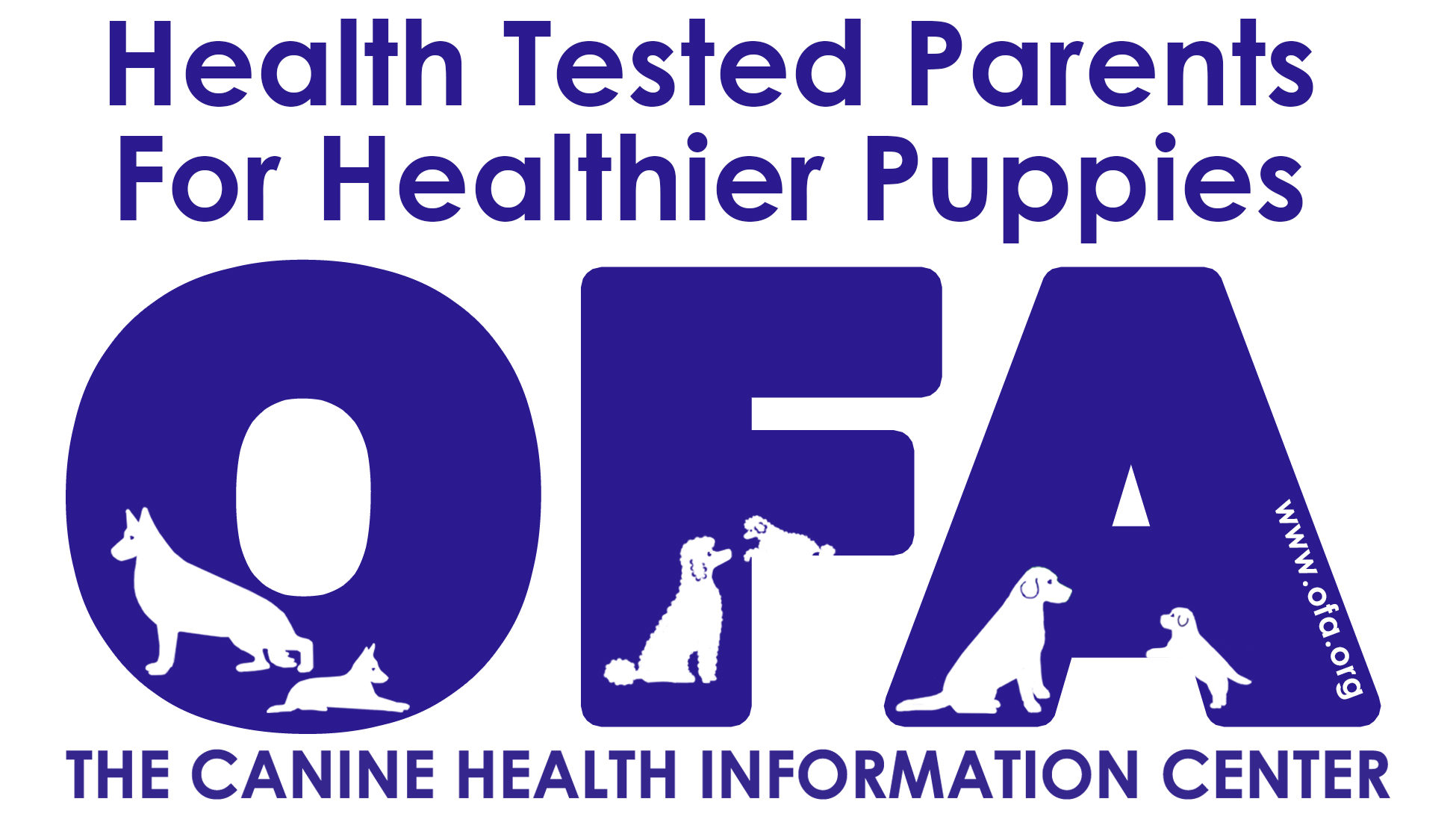 Jamie and Jaya are genetically tested for the following genetic disorders and all puppies in this litter will be clear/normal for prcd-PRA (Progressive Retinal Atrophy, Progressive Rod-Cone Degeneration),  GR_PRA1 (Progressive Retinal Atrophy, Golden Retriever 1),  GR_PRA2 (Progressive Retinal Atrophy, Golden Retriever 2) and DM (Degenerative Myelopathy), and none of the puppies will have ICT-A (Ichthyosis).
Copies of pedigrees, OFA health certificates and DNA testing results are included in the Nova Mist Puppy Pack.
Jaya's Pedigree includes outstanding European lines with many acclaimed English, European and Canadian show champions.  Her pedigree includes: IntCH, MultiCH Noah of the Hellacious Acres Ejgs'12, Dutch Jr. Ch., Ch VHD; ICh, Fr.Ch, German, VDH, Lux. Ch, Lux. JCh Inassicas Coriander reserve at Crufts 2004; IntCH Blackpool Acadia Cosmic Cowboy; C.I.E, LTU&SWE (show) CH, FIN JW-01&FIN W-07, VetWW 2010 Royal Salute du Pays de Boheme, to name a few. Good health and temperament are prevalent.
Jamie's Pedigree contains exceedingly strong European and Canadian stock on both sides including:  C.I.E., SE/DK/LT/LV/EE/BAL CH, NL VCH Majik Finders Keepers DKW-11; CanGCH Bonett Bride Fire Tower; Italian/San Marino/Swedish/Austrian/Int. CH. Pinkerly Never Say Never Giovane Promessa ENCI, whose movement and solid structure I observed first hand at the Centenary of the Golden Retriever Show in England in 2013.
Acadia, Blackpool, Hellacious Acres, Majik and Pinkerly kennels are all well regarded for producing puppies with excellent health and temperaments that conform to the Golden Retriever breed standard, resulting in many well-loved and beautiful companions.